Overview
It is well known that the distinction between microfibrillated cellulose or cellulose microfibrils (MFC), and nanofibrillated cellulose or cellulose nanofibrils (CNF) is not clear cut. As reported in the previous Production Summary, some materials called CNF are primarily micro-scale while some called MFC are primarily nano-scale, and some are a mix of nano- and micro-scale particles (Figure 1). Accordingly, some producers have suggested the term "cellulose fibrils" rather than CNF or MFC. This point is well taken, but in this Summary, we use the terminology the producer uses. If nano or micro are not specified, the material is included under MFC.
It has also become apparent that the difference between CNF and CNC (cellulose nanocrystals) is not clearly defined. CNC was originally produced primarily from bleached pulp by means of sulfuric acid hydrolysis, which essentially separates the crystalline portion of cellulose from the non-crystalline or amorphous portion. CNF was produced by primarily mechanical means, in some cases with enzymatic or chemical pretreatment to reduce energy cost. CNF and CNC were very different, and the difference was quite clear.
Now, however, biorefinery processes have emerged that produce CNF or CNC from biomass. GranBio (American Process) uses sulfur dioxide and ethanol (AVAP® Process) to fractionate biomass into lignin, hemicellulose and cellulose, and can produce either CNC or CNF, or a blend of the two.[i] More recently, Sweetwater Energy introduced its SunburstTM reactive extrusion process which also fractionates biomass into lignin, hemicellulose and cellulose, and with further enzymatic hydrolysis can yield CNC or CNF.[ii] CNC and CNF cannot be definitively distinguished by particle size, crystallinity, or other metrics, though cellulose nanofibrils tend to be longer, and may be entangled, while nanocrystals tend to be more crystalline and can be presented as discrete particles.
A more detailed discussion is beyond the scope here, but we can report that ISO, with support from TAPPI, is working to develop standards for the measurement of cellulose nanomaterial particle size.
[i] Miller, J. Nanocellulose Producers, Products and Applications, A Guide for End Users, TAPPI, 2017.
[ii] Miller J. Lignin 2021: A Pivotal Year, BioFuels Digest, 2021.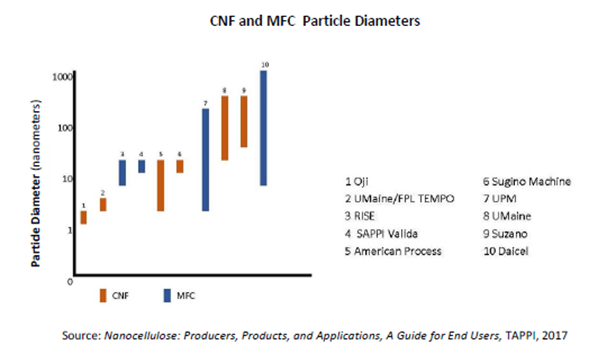 _____________________________________________________________________________________________________________________________________________
Cellulose Nanocrystals (CNCs)