Nano 2022 Snapshot:
The 2022 International Conference on Nanotechnology for Renewable Materials, was located at the Scandic Marina Congress Center and Grand Marina in Helsinki, Finland.  Attendees were able to move freely between all technical sessions and breaks, providing opportunities for networking while learning the latest technical advancements in production and use of renewable nanomaterials from around the globe.  With a combined attendance of over 220 people, from academia, industry, federal research institutes, from all over the world, there was a heightened buzz of excitement with the R&D and application of renewable materials.    
After two years of hosting events virtually, this year's in-person NANO conference had 220 delegates from 24 countries!  There was a Buzz of Activities including:  2-Keynote talks, 2-lunch sponsorship talks, Tour of Aalto University and VTT, one workshop (CNM Characterization),   8-table top displays, 5-NanoDivision Awards, End-Users Panel Discussion, Product showcase, Career Panel, Poster session with Student Poster Competition, Welcome Reception, Young Professional Mixer, Conference Dinner, and a Technical Program that highlighted over 100 technical presentations on production, characterization, applications and functionalization of renewable nanomaterials.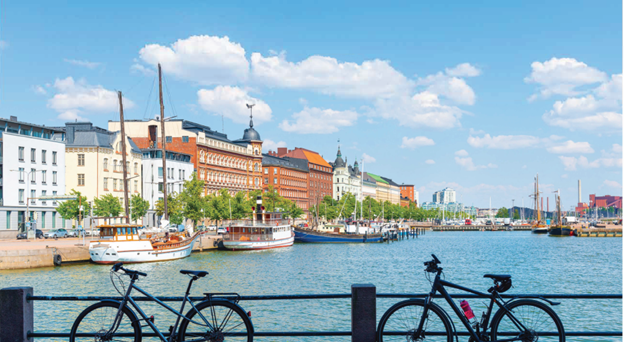 Conference Venue - the Scandic Marina Congress Center and Grand Marina
Nano2022 Highlights:
Opening Keynote:  "Saving the World is Good Business!":  Nina Kopola, CEO Business Finland, briefed attendees on the current dire state of affairs, the importance of innovation in the bio and circular economy, and best practices to create a thriving environment that fosters innovation.
Keynote: Beyond Nano:" FiberLean MFC – It's like we are printing you money!": Sean Ireland, Vice President Business Development, presented FiberLean Technologies new commercial products and discussed how businesses can utilize biomaterials to enhance their products, remove fossil based materials and reduce their carbon footprint.
Keynote: Accelerating New Business Growth from Circular Economy:   This Keynote talk sponsored by Valmet, a Gold Sponsor of Nano 2022, was hosted by Riikka Timonen of Valmet. Timonen gave an exciting talk about how Valmet's new business initiatives are deeply rooted in circular economy and resource efficiencies, such as recycled and cellulose-based textile fibers, biomass-derived fuels, and 3D fiber products.
Keynote: "Waste, no Waste: Manure as source for nanocellulose, energy and more…": Alexander Bismarck, Professor at University of Vienna, Austria gave an exciting and entertaining lunch talk on rethinking agricultural waste products as a valuable source for nano/cellulose fibers, biomethane and fertilizer.
Tour of Aalto University & VTT:   A sold out event, in which 44 conference attendees toured to see one of Europe's leading research institutions. At Aalto University, participants had an opportunity to see sustainable biobased textiles, the fiber spinning line, and textile design and manufacturing. During the VTT tour, participants had an opportunity to see Biomass fractionation facilities, including the nanocellulose manufacturing. Participants also explored the film and coating pilot lines, VTT SutCo, a pilot line for manufacturing stand-alone nanocellulose films/biomaterial dispersion coatings and the VTT CelluloseFilms, a pilot line for regenerated cellulose films and coatings.
End-Users Panel: The End-Users Panel, hosted by Hamdy Khalil, included three companies (Spinnova, UPM and Suzano), representing various end-user industry segments, discussed issues and requirements that the ultimate end user will have when producing commercial products incorporating cellulose nanomaterials.
Young Professionals Mixer:  This event hosted by TAPPI's Young Professionals Division and sponsored by the City of Helsinki, provided the opportunity for attendees of all ages to network in the comfortable and luxurious trappings of the Helsinki City Hall Banquet Room.
NanoDivision Conference Dinner:  A sold out event, in which 140 conference attendees, socialized and networked over dinner and music at the Restaurant Saaristo, located in front of Kaivopuisto on the Klippan islet.  After the NanoDivision Awards Ceremony, attendees enjoyed the live music of the KEJ Band where many attendees danced the night away.   
Nano2022 Workshop Cellulose Nanomaterials Characterization Workshop –Primary Characterization:   This workshop summarized and outlined details of best practices and limitations for several techniques/methods typically used for the characterization of cellulose nanomaterials.
Workshop Presenters: 
Johan Foster, University of British Columbia
Tiffany Abitbol, RISE
Heli Kangas. VTT           
Eero Kontturi, Aalto University
Bruno Mattos, Aalto University
Student Poster Session & Competition – Attendees had the opportunity to visit over 40 presentations which focused on additional application, characterization and functionalize of cellulose and other renewable nanomaterials.  Conference attendees voted on the student posters in the competition using the voting tool in the Conference App.
Poster winners:
First Place
Roozbeh Abidnejad, Aalto University
Self-extinguishing and Thermal Insulating Hybrid Cellulose Pickering Foams
Second Place
Luca Müller, Empa
Light stimulated 3D printed cellulose nanocomposites
Third Place
Kora Kukk, University of Maine
Cellulose Nanomaterials: A Novel Adjuvant and Delivery System for Aquaculture Vaccine Applications
Nano 2022 Awards:
A new NanoDivision Award:  The Young Professional Nano Award was introduced at Nano2022 to recognize recognizes aspiring young leaders employed in the global cellulose nanomaterials, or renewable nanomaterials industries (from producers to end users) for their contributions in leadership, community service, and problem-solving contributions to scientific or engineering projects.
Technical Award & FiberLean® Technologies Prize:  Presented to Dr. Liangbing Hu, University of Maryland
Leadership & Service Award: Presented to Lisa Stephens, TAPPI
Mid-Career Award: Presented to Dr. Nathalie Lavoine, North Carolina State University
Young Professional Nano Award: Presented to Renato Damasio, Klabin
Student Award: Presented to Sara Velasquez, University of Strathclyde
Documents